This document is intended as a reference to be used by Accreditation Bodies (AB) for ISO 55001.
Accreditation Schemes are nominally developed and administered by individual Accreditation Bodies though they may collectively agree to utilise or mandate common Schemes.
Mandated Schemes currently exist for ISO 9001 and ISO 14001, but not ISO 55001. The original version of this document was created by the Asset Management Council in collaboration with JAS-ANZ, the Australian/New Zealand Accreditation Body, and in consultation with other professional organizations and Accreditation Bodies.
The GFMAM is grateful to the Asset Management Council who has contributed this work. The aim is to provide a reference Accreditation Scheme document which may be of interest to Accreditation Bodies around the world in pursuit of a common, global scheme.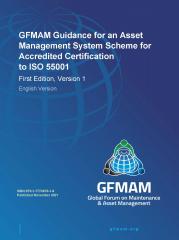 978-1-7774676-1-6